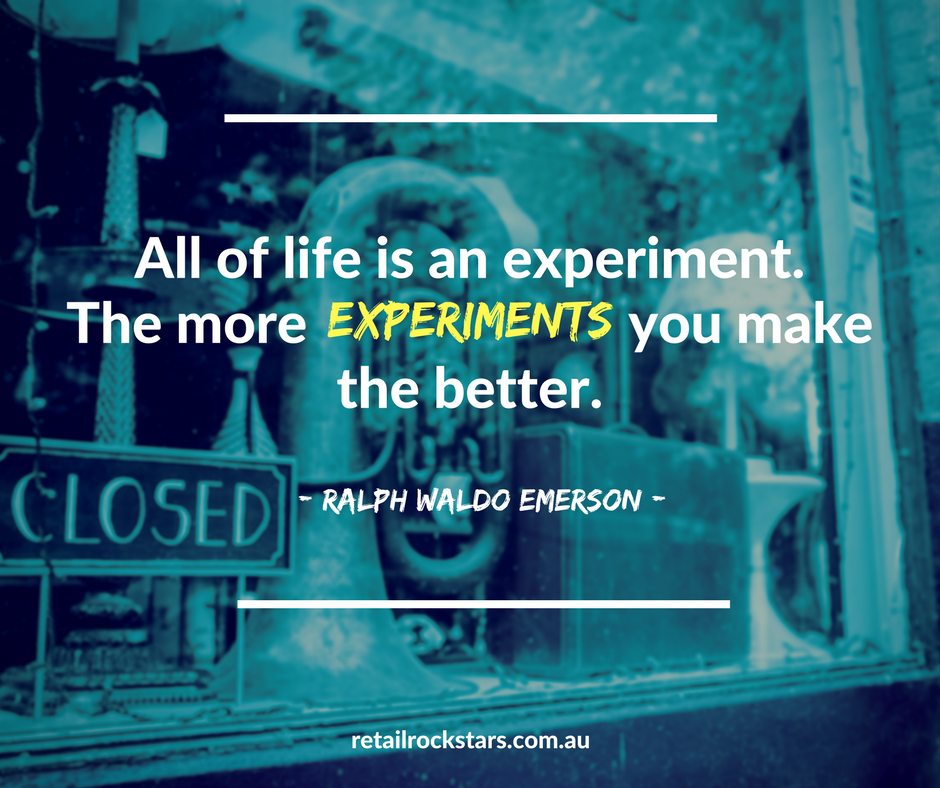 Customer experience and journey mapping are all the rage at the moment. But how do we go about creating magic moments for customers in-store?
In my experience, the real force multiplier for brick and mortar stores comes from tapping into our own emotional and human needs – or what I like to refer to as Humanics.
Tapping into human needs
Humanics is about identifying deep emotions, values and human needs. Not just the needs of your 'customer'…. your target….a segment….but rather the emotional person.
It's how we distil these emotional needs and then bring them to life in-store, that creates 'magic moments' for customers.

Experiment With Purpose-Driven Events In-Store
In 2010, I was searching for a way to bring a Jamie Oliver campaign to life in my 2500sqm, home electrical store. We had spent (as one of 90+ franchisees) a great deal of money to partner with Jamie's, Ministry of Food.
So, when our head office came up with traditional advertising (catalogues, TVCs,etc.) in-store merchandising, blogs and a few 'meet and greets', I felt a bit let down.
Personally, I've always been inspired by Jamie's message. His insistence on cooking 'real food' was a timely and essential message that I wanted to get out in our local community. It was this very 'inspiration' that had me talking with a local trendy cafe owner, who always had the latest healthy foods, juices and created the most delicious and beautiful raw food you've ever tasted.
Since she was super passionate about healthy eating, I convinced her to come into our store and help me spread Jamie's message of preparing healthy meals instead of relying on takeaway and unhealthy pre-packaged foods.  She prepared several of Jamie's Food Revolution recipes and helped convince locals of the health benefits of cooking real food.
It was a huge success, we had people standing up in the aisles and even the local newspaper featured it. This initial event triggered a string of other social 'experiments' I would then run inside my store for the next three years.
We hosted paleo workshops for customers, healthy heart events and experiences of all shapes and sizes right inside our store. It was my first insight into the power of events with a purpose. I saw first-hand how these events engaged our customers and created magic moments for them.
These experiments produced an outpouring of interest and engagement in our community. Bringing in new customers, advocates, increased our visitation, sales and our staff really loved it too.
Looking beyond our own commercial desires opens more meaningful human needs and values like;

• inspiration – how can we take action on something important
• freedom – how can we spark the spirit of choice
• identity – help facilitate a group of people 'like me'
• creation – provoke the creators to put their mark on your brand
"The reason it seems that price is all your customers care about is that you haven't given them anything else to care about." – Seth Godin
Here's my home cooked recipe for creating 'magic moments' at events in your store;

– It's a special Human-to-Human event, taking place inside your store
– The entire event is ALL ABOUT the Attendee's, from start to finish – not about your brand or sales goals
– Its purpose is super-easy to communicate and share socially
– It creates advocacy and sharing – purposely design it to be shared with friends and family a great experience you want to share. (if you've done this properly, your RSVP list(s) will have multiple surnames and referrals to family and friends)
– It's all about creating community and cause first – it's also a niche community you are reaching out to.
Within the four walls of our stores, we have more control over the experiences our customers have. So, why not engineer experiences that are inspirational, meaningful and memorable to our special people – our local customers.
Lastly, customers may forget the last discount you gave them or your recent ad campaign, but they'll never forget how you made them feel at an event inside your store.
Keep Up The Experimenting! Amy
Connect with me on our Facebook page or personally on LinkedIn
For more ideas on creating Magic Moments see our FREE download on Increasing Your Stores Foot Traffic.