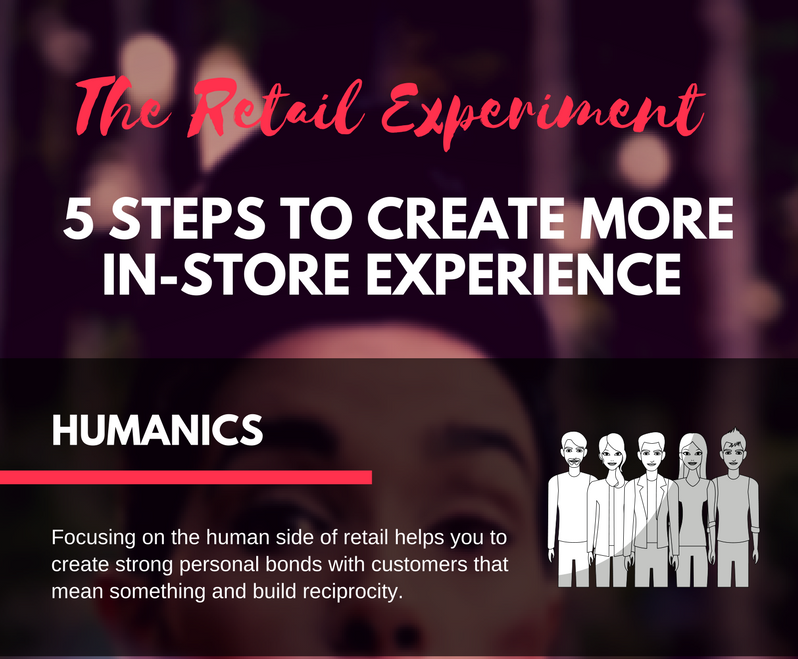 When I started researching in-store experience many years ago, I set up a Google Alert for 'experiential retailing' and 'in-store experience', those have remained mostly silent until, well…this year really.
Now, it sounds off like my LG dishwasher after the load is finished, pretty much all times of the day.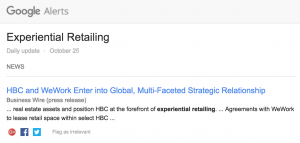 But, while there might be more 'Alerts' now, little serve up insights and direction on how to effectively create more in-store experiences.
Something I'm hoping my new book The Retail Experiment and the infographic below for 5 Steps to Create More In-Store Experience will help shed some light on.
As retailers, you might feel like your customers are listening to you less and less (despite spending more than ever).
Well, that's how I felt anyway. Not that long ago, we'd activate an advertising campaign and then brace for the wave of people and sales.
You'd see a fairly big reaction in terms of increased visitation to the store and a spike in sales too. Who would have thought these curves and spikes would wane in such a short period of time?
No doubt you're wondering what has changed so dramatically since then?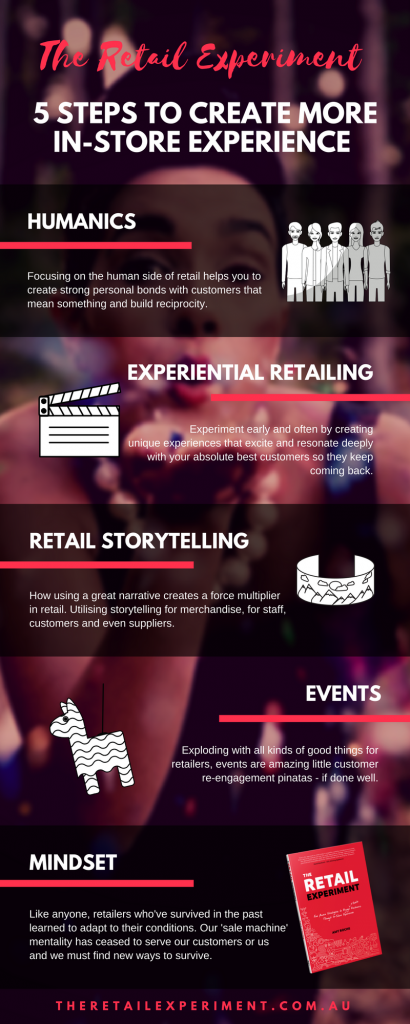 Well, I did too! So, for several years, I experimented in my own store to find out HOW and WHAT I could do to get my customers attention back.
I also wanted to start re-building trust and advocacy within my 2500sqm appliance store.
Sure, I was interested in increasing our sales – what kind of retailer isn't, but I wanted to give our customers knowledge and insights that would genuinely help them.
I wanted to show my customers that I cared about them and actually deserved to have their repeated business more than my competitors.
So, after lots of research in neuroscience, consumer psychology and experimenting and testing different concepts first in my own business and later other retailers in other industries too, I discovered there was an area we had all ignored – our in-store engagement.
Sure, we had great staff, merch planning teams, blogs and in-store promotions but it just wasn't a special or personal experience for customers.
So, I set out to change that first in my store, then others as moved out of experimentation mode and into helping other retailers with the same exact problems.
Now, several years later, I've put those learnings, strategies and pitfalls into a book called The Retail Experiment, 5 proven strategies to engage & excite customers through in-store experience.
For those visual folks – like me, I created this "5 Steps to Create More In-Store Experience", infographic to represent the 5 key strategies I discovered along my retailing journey.
I hope you find the infographic helpful and I'd love to know what your store is struggling with, or how you increase in-store engagement.
So, don't be a stranger, drop me a line at amy [at] retailrockstars [dot] [com] [dot] [au], I'm always happy to help.
If interested in learning or reading more about The Retail Experiment – visit here, where you can download the first 3 chapters free.
Wishing you ALL the experience your store and staff can handle!
😉 Amy
PS. Let's connect on LinkedIn –https://www.linkedin.com/in/amyroche1/