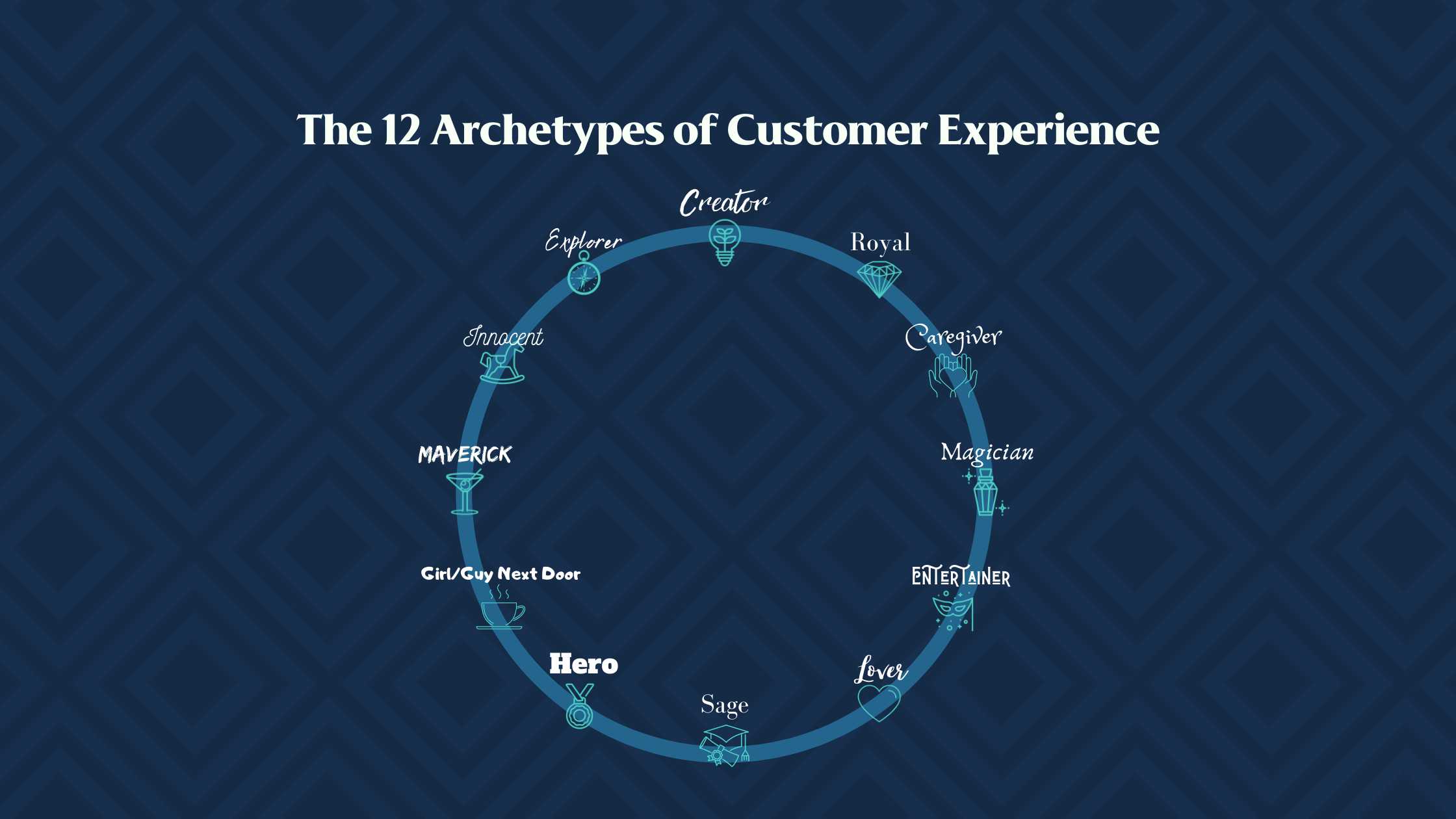 Wondering what the 12 archetypes of customer experience are? As you've gathered by now, we're pretty passionate about using archetypes to engineer the best possible experiences for your customers.  If you've miraculously made it this far and don't know your archetype yet, take this 9 question FREE Quiz to figure out yours.
Now maybe you've taken the Quiz and have your archetype but you're wondering WHY understanding your archetype is crucial for customer experience.
Otherwise, if you know your's and understand its importance, find it below or peruse through the other archetypes to get a feel of what your secondary archetype might be???
Here's a brief snapshot of the 12 Archetypes of Customer Experience;
1. Caregiver
The Caregiver brand is generous, understanding and empathetic to others needs. You may be concerned not only with children around you but children and people worldwide.
You are dedicated and compassionate as well as trustworthy and reassuring. You'll feel genuine compassion for the planet, not just following a trend of the movement – but a real deep down concern for the harm we've caused thus far. You love serving your people by putting the focus on them and their needs and could possibly (but not always) shy away from the spotlight or your role in helping them. Those close to you feel safe and supported.
Caregiver Customer Experiences
It is your gift to make people feel looked after. So it's crucial to make sure that if you're a Caregiver brand that you give your customers the ultimate compassion, make them feel safe and that you and your team are there to serve and help them.
Types of experiences for Caregiver's can take on the persona of being pampered, educated and looked after.  Overall when customers leave you, they should feel thankful and blessed for their time with you. Appropriate experiences depending on the sophistication of your customers range from nurturing to coaching, mentoring and even community building for the most sophisticated customers.
2. Innocent
Being an Innocent archetype means you're optimistic, pure, genuine, loyal and somewhat gentle.
At times your accepting and trusting nature can sometimes mislead you. However, you show us that by seeing the bright and optimistic side of things really does bring out the best in everyone.
Innocent Customer Experiences
With an innocent brand, your best customer experiences are FEEL good ones. Think sharing the joy of others accomplishments – maybe even your customers?  Keep whatever you do simple and cheerful – remember the world doesn't need to be complicated.
You'll want your customers to feel encouraged and joyful and the vibe of your experience or event should feel like a contagious smile on your face that you can't get rid of.
Use your amazing sense of optimism to inspire and give hope to others.
3. Entertainer
As the Entertainer brand, you tend to be the life of the party. You're fun, light-hearted and playful.  Your joy and humour are contagious and you like to help others get more enjoyment out of life. Charismatic in your approach, Entertainers.
Entertainer Customer Experiences
After spending time with your brand your customers should feel energetic, and of course entertained.
Whatever business you're in, if you're an Entertainer it's now your mission to put on a great show.  Entertainer brands are perfect to have events in-store or at their place of business and they are playful and fun.  Bring out the inner child in your clients or customers, get them involved and make sure they want to take plenty of photo's to share the entertainment with friends.
4. Creator
Being the Creator, you're inventive, unique, and vibrant – and it's all by your own design.
You intend to inspire creativity in everyone around you. You help us realise our unique vision, and to express ourselves and our individuality.
Creator Customer Experiences
As a Creator, it's important to help your customers develop their craft…even if it means they don't buy yours immediately.
Giving customers a sense of what it's like to create is what they crave from you. While this may seem counterintuitive as you're in the business of creating things (and selling them), it doesn't mean you can't charge for your experiences.
When you're a creative the sky is really the limit.  People come to you for 'different', so don't be afraid to show them your take on how it's done.  The beauty of creation is that no two items are created exactly the same.  Your customers will appreciate this and they would love to be inspired and amazed by your talents.
While creating might be your 'norm', don't forget people who are drawn to you are mystified and awe – their fun is in attempting to create.  After they've had a taste at doing it themselves they will appreciate what goes into yours even more and want to use the techniques, the tools and equipment to be just like you.  Whether they throw in the towel on creating later on to purchase a professional crafted version is irrelevant.
5. Royal
The Royal archetype is also known as the Ruler. The Royal is ambitious, influential and polished.
Your overall goal is to build a prosperous and successful community.
You tend to lead by example and your audience is captivated by your results and status. They want to become part of your inner circle and follow in your footsteps.
Royal Customer Experiences
As a Royal, your best customer experiences are well articulated and refined. Brainstorm customer experiences that bring your community together – preferably at a small and expertly curated event.  Remember as a Royal, quality is far more important that quantity.
Show customers what the best version of life looks like with your products or services. There's no need to "Sell" – this will cheapen the experience. Your craftsmanship and quality should be on showcase so that your customers know WHY you are the best.  If you have expert makers and artists, then highlighting a "meet the maker" could be a wonderful experience for customers.
Your events and communications should focus on thinking BIG and drive anticipation to the forefront. Experiences rooted in honour, tradition and are bespoke in nature are far more up your alley than flippant trends.
6. Magician
As the Magician, you help make dreams come true. You may manifest as an inventor, transformative conduit for personal, business or community or even a visionary guide.
But while the type of business and path to results may vary widely, all Magicians have one common goal – to transform lives.
Magician Customer Experiences
Magicians are expansive and persuasive by nature, so ensure your experiences have a fascination to them.  Magician brands are innovative and your customers' experiences should be transformative and show change, growth or expansion in some way.
Either online or in-person, technology can play a great role in surprising and delighting your customers when you're the Magician brand. However, it's more about the change or transformation for people than it is about the actual way it's delivered.  Most importantly, ensure the experience is all about them and when they leave or finish your experience they are different for it.
7. Explorer
As the Explorer, you are quite curious and even investigative. You're ambitious when searching for adventure.  As a natural trailblazer, you are among the few who dare to literally (or figuratively) investigate the world. Explorers love to experience new things themselves and of course, those who are drawn to explorer brands do too.
You help us to be more adventurous, more authentic and give us the freedom and fulfilment we seek.
Explorer Customer Experiences
Explorer brands are pioneers and you'll find your best experiences are those currently unexplored and not yet known. When you bring these ideas, places or products to life it sparks the explorer in everyone.
Your claim to fame is maintaining independence, so your experiences must be liberating and bring customers a sense of open-mindedness and authenticity. Be the spark that lights the adventurous side of your customers, it will not only make them feel alive, but it will also keep them coming back again and again.
8. Lover
As the Lover brand, you are charming. It's in your warm presence that people feel your passion towards your 'brands thinking' (whatever that may be).
You're devoted to your people and truly value relationships, friendly exchanges and pleasure. You cherish style and beauty in life and long for a world that appreciates it as you do.
Visual and aesthetics are extremely important to your message.
Lover Customer Experiences
As the Lover archetype, you'll want to create experiences that appeal to as many senses as possible. Think vision, hearing, smell, taste and touch. Video can be very impactful in your online endeavours, however, in-person experiences are much more tactile and impactful for Lover brands.
Fashion, beauty and style are natives to the Lover but make sure the experiences you design are rich in sensory and colour.  Ensure customers are able to touch and feel the product. If your a service-based brand then let customer's experience your services through customer stories that are aesthetically distinctive and ooze with your style.  You're going for a spellbound and emotive experience.
9. Hero
As a Hero, you are a modern-day warrior who's looking to improve the world. Seem's like a lofty goal and it is – as are most Hero's goals. Show your clients and customers the ample rewards that come from hard work and discipline. Share your shortcuts to victory if there are some, but don't be afraid to be direct in saying – there are no shortcuts.
We look up to you. You inspire us, as you overcome challenges like a champion.
Hero Customer Experiences
As the Hero brand, your best customer experiences will involve straight talk and motivating others. People who are drawn to Hero brands want the motivation, they want to be empowered.
Whatever your business is, you need to not only provide information on how to overcome life's challenges but also inspire and motivate them to take action now.
For Hero's, it's imperative that you have some premium face to face motivation. While your customers may be swayed by online motivation from time to time (videos are most effective), you'll pack a bigger punch with in-person classes or experiences that are exclusive to those who are really serious about taking the leap.
10. Girl/Guy Next Door
The Girl/Guy Next Door (GND) is down-to-earth, loyal and friendly.  Your goal is to find common ground with others and to belong.
You're a realist and you remind us to do the hard work and stay humble. You're approachable and like to create communities that are accepting, vulnerable and honest. Your only downfall is your tendency to "blend in".  You make people feel understood and trusting.
GND (Girl/Guy Next Door) Customer Experiences
As the GND, You excel at creating communities so your best customer experiences are all about bringing together people so they feel warm, included and part of the group.   Don't make them jump through too many hoops though.
Experiences may include things like a day and life of you or a well-known customer or celebrity (influencer).  Inspirational and educational events that share how to's in a casual and open way (no glitz and glam needed). Feel free to be vulnerable about it your business, clients and staff. Deeply encourage participation, comments and real conversation. These honest moments connect your customers like glue to each other and to your brand.
11. Sage
The Sage is knowledgable, calm and wise. You seek to understand the world and are a natural advisor. You make your impact by sharing truths and your customers love you for that.
You are the expert, the thinker and can be analytical. You highly value intelligence and facts, and your aim is to share those insights with the world.
Sage Customer Experiences
As a Sage brand, your best experiences involve sharing your truth with your customers.
Whether you are in a service-based business or a retailer selling high-end appliances – a Sage is a natural-born teacher or sharer of knowledge. You'll find that educational events and insider blogs are a natural fit for customers to experience the best of your Sage brand. Experiences that are cultured and dedicated to your audience will keep your customers attentive and engaged. Remember you can be the teacher or invite other Sage brands or facilitators to take up this wonderful value you bestow upon your special customers and clients.
Ensure you use your knowledge and wisdom to serve your customers (not talk down to them) and make them feel engrossed and part of your educational society.
Customers who are drawn to Sage brands like plenty of case studies, examples and things to take home or read.
12. Maverick
As the Maverick you're a natural-born rule-breaker who likes to challenge conventional thinking and the status quo.
Maverick brands are bold, courageous and revolutionary. Often unapologetic, you tend to do things 'your own way' – especially when compared to your competitors.  Your leaders are bold and if something isn't working, it's overturned.  While your biggest fear is to be powerless, your absolute strength is courage.
Maverick Customer Experiences
As a Maverick, your customers believe in you and are stimulated by your bold and revolutionary ideas.  However, sometimes a quick check-in with your values and purpose can save you from getting off-track.  Ensure your customer experiences are assisting to bring clarity, education or even some inspiration for your big ideas.
Your customers back you because they believe in your ideals of non-conformity and they are thrilled to support you in driving needed change.
Mavericks are great at getting people to take action, make sure your experience is tied to your purpose and that it makes people feel they are part of what you're achieving.  Regularly gather customers together either online or in-person and show them tangible outcomes and what their action has helped accomplish. Thank them for their contribution and inspire them further to make their own changes to ripple your impact. #hashtags for the cause, sharing your BCorp certification and urging customers to support other BCorps, micro websites and personal pledges (think "Giving Pledge" , "15 Percent Pledge" ) are all great experiences to bring your customers together for a common cause. As well as products and services (and the stories behind them) that show off their support for you and bring out their own inner Maverick – if it's even for a brief moment.
Remember your bold and revolutionary ideas don't have to be in the form of social impact or giving – they may be a radical new way of thinking or changing the status quo. Your disruptive thinking may help your customers vent or break conventions.
Summary
Amazing retail brands and experiences are built by a deep understanding of your Archetype and how to "personify" that in real life.
Archetyping makes your brand more personable, more human-like and therefore if done thoughtfully and consistently helps builds trust.
As an example, if your friend Josh is a Hero archetype, it would seem disingenuine for him to all of a sudden start acting like a Caregiver.  It would be out of character for him.  Customer experiences are no different.
Without the foundational branding component, you'll have no definition in which to build your brand or how people should experience it or FEEL about it when they shop, buy and interact with you.
Finally, a common misconception to leave you with; your not marketing and creating experiences just for other (insert your Archetype here)'s either.
For instance, I'm a Royal/Maverick, but I have a healthy affinity for Hero brands –  (I'm a total sucker for a good Nike advert 😉 and ALL their gear). Customer experience and branding overall is not that you only attract other (insert your Archetype here)'s – but rather your experiences are in character and congruent with your brand, so they build trust.
Additional resources
Take our FREE Customer Experience Quiz to find out your archetype. Book in a Free Retail Experience Assessment to see if we can help stimulate sales through some experiences that your customers will love.
More information on The Retail Experiment, book.